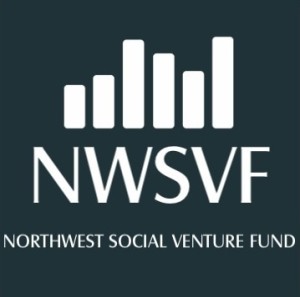 In February, Northwest Social Venture Fund's team worked on special projects in Kenya – Carolynn Duncan went on-site to Nairobi and Mombasa for 3-4 weeks, with a priority list of 8 special initiatives, and NWSVF team members Allen Thayer, Neal Collins, and Daphne Emerson provided remote logistical support and analytic work, throughout the field studies.
One of the priorities was to visit with social impact teams, and get a vivid sense of what is occuring with hybrid organizations in this area of the world. It was so great to see how innovation, leadership, technology, and social impact are taking shape to address local problems, and we are so inspired by the founders and management teams of each of these organizations who are doing such great work.
Here is a snapshot of 8 teams that were visited with:
1. Lighting Up Kenya, Skynotch Energy Africa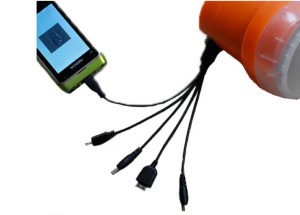 Cofounder/CEO: Patrick Kimathi
Stats / Snapshot: For the last one-and-a-half years Skynotch Energy Africa in partnership with the Kenya Climate Innovation Center, Kiva Zip, The Youth Banner and Kenya Girl Guide Association, has been able to successfully demonstrate that a sustainable distribution network is feasible.  We have four distribution outlets today with 12 agents, who are financed through the Kiva interest free loans.  3 Girl Guide clubs are already educating their communities on switching to clean lighting.  We need to increase the number of distribution outlets to 8 and train 5 more Girl Guide clubs on how to spread the clean lighting message
Model: For-profit, social impact company, incubated at the University Nairobi / Climate Center.
2. Kazuri Beads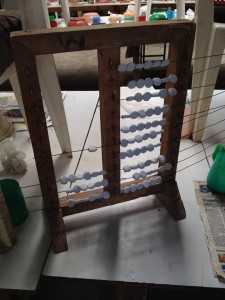 Cofounder/CEO: Lady Susan Wood
Stats / Snapshot: Kazuri, which means "small and beautiful" in Swahili, began in 1975 as a tiny workshop experimenting in making handmade beads. Its founder, Lady Susan Wood, started with two African women and soon discovered that there were many other women in the villages around Nairobi, most of whom were single mothers, who were in great need of regular employment. Driven by the desire to provide such opportunities, Kazuri has grown and today has a large workforce skilled in the manufacture of hand made jewelry. More than 300 women are employed by Kazuri, and the organization hosts a full manufacturing facility with kilns, storage rooms, beading workshop, and a retail outlet in the Karen area near Nairobi.
Model: For-profit company, with a mission to assist single women and mothers to find secure employment.
3. Burn Manufacturing / Jokokia
Cofounder/CEO: Peter Scott
Stats / Snapshot: BURN's launch stove, the jikokoa, is a revolutionary natural-draft charcoal stove that offers best-in-class performance (50 – 70% reduction in fuel consumption, CO, and Particulate Matter). The Paradigm Project, one of the leading distributors in East Africa, selected the jikokoa as the #1 stove in terms of price, performance, and user satisfaction after comparing the latest charcoal stoves in East Africa. BURN's user-centric designs are aspirational products that are sold wholesale through proven distribution networks.
Model: For-profit company, with social impact mission / outcomes in environmental impact, microfranchise/microbusiness employment opportunities, cost savings to household owners, health & safety for women and families.
4. Kibarua Now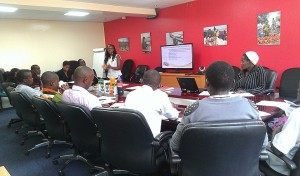 Cofounder/CEO: Kenny Kinako
Stats / Snapshot: Kibarua Now is a Social Venture Enterprise that creates employment opportunities for the unemployed (currently only within Kenya) for Social Impacts in society. Currently supported and hosted by Mercy Corps, Kibarua Now connects homeowners and businesses to a trusted pool of background checked, reliable, verified, and referenced people with various skills to ensure that the mundane and important tasks are satisfactorily completed in a manner that is better and faster than the status quo. Kibarua Now provides tools and resources to ensure two way feedback, online secure payments and dispute resolution. The mission is to be an Africa-wide online service market place with aim to connect one million individuals with short term tasks in the next 3 years.
Model: Hybrid social venture startup with an impact mission; formerly a program/initiative of Mercy Corps, in process of spinning out as an independent business unit.
5. Honey Care Africa: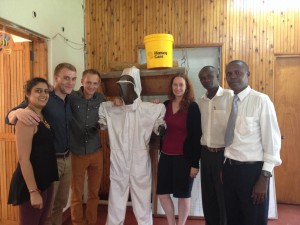 Cofounder/CEO: Madison Ayer
Stats / Snapshot: Honey Care Africa is a for-profit company with an explicit mandate to generate social return, helping developing markets to grow. Honey Care Africa's focus on production in these markets is geared to provide opportunities for greater returns: socially, economically, and environmentally and is driven by the disciplines of a self-sufficient, sustainable model. Through a complete value chain, Honey Care Africa leads both the production and processing of raw honey, and the retail distribution of consumer honey products.
Model: For-profit company with a social impact mission.
6. Momma Kennedy Foundation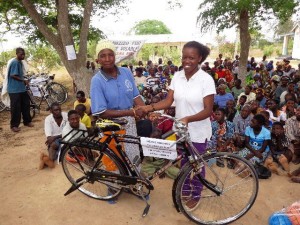 Cofounder/CEO: Kennedy Nganga
Stats / Snapshot: Momma Kennedy Foundation was launched by Kenyan artist Kennedy Nganga, to support individuals with disabilities in rural areas. Inspired by Kennedy's mother and powered by the sales of Kennedy's beautiful art of local culture and African wildlife, and through Kennedy's leadership, MKF generates resources to provide goats, food supplies, and school supplies to individuals with disabilities, empowering them to have a more vibrant life and future.
Model: Patron organization to Mbazizo, another Community-Based Organization, fueled by business income from sales of local art; also exploring additional income streams to generate funding.
7. Emeden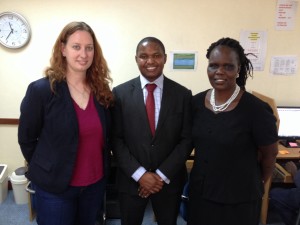 Cofounder/CEO: Everlyne Cherobon
Stats / Snapshot: Emeden's founder, Everlyne Cherobon, was raised in rural Kenya, in the midst of rural poverty raised on a small holder 2 acre piece of land. She experienced firsthand the challenges of smallholder farmers in rural Kenya. These experiences motivated her to want to make a difference by improving agricultural practices of her community in order to reduce the poverty levels. Consequently, she enrolled for undergraduate studies in Agribusiness Management. Upon graduation she held formal employment in various capacities that widened her scope of understanding the rural poverty problem. In 2007, together with a team of volunteers, she organised volunteer outreach programs to smallholder farmers to help them engage in sustainable agriculture commensurate with improved livelihoods. These initiatives eventually led to the formation of EMEDEN Kenya in January 2010 as a non-profit making organization targeting poor rural farmers and other vulnerable groups with the sole purpose of improving their livelihoods. EMEDEN Kenya began their pilot projects with smallholder farmers in semi arid areas of Elgeyo Marakwet County in the Rift Valley Province in Kenya. The receipient of multiple regional / industry awards and grants, Emeden is now exploring sustainable business units to expand the model and widen the impact reach of better cultivated business practices for independent farmers.
Model: Nonprofit organization with multiple independent agribusiness units to drive self-sufficient revenue streams and further economic opportunities for families to generate household income in Kenya.
8. Banza Toilets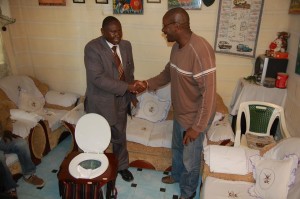 Cofounder/CEO: Patrick Kurui
Stats / Snapshot: 2.6 billion people worldwide do not have access to proper toilet facilities. The Banza Toilet Project aims to address this issue in Nairobi, Kenya, where the lack of clean and safe toilets results in environmental contamination and high instances of disease. A social enterprise venture, the Banza Toilet Project will create a new system of human waste management and provide a more dignified and sanitary toilet-user experience for residents of Nairobi's Mathare slum.
Model: For-profit company with a social impact mission, previously incubated by Grand Challenges Canada and Villgro.